​Hi, and welcome to my newsletter!
Click here to see past newsletters and to subscribe
I am sure we are all getting a lot of notifications about sales right now – so here I am to add one more to your list!
The MixShop sale starts on Tuesday at 12pm AEDT and runs for one week.
In advance of the sale, I wanted to share with you some of my favourites from the shop, and some of the higher value items you might want to think about while this sale is on.
​
​Click here to visit The MixShop​
If you purchase, please add Jo Reardon as your consultant at checkout. It is much appreciated 😊.
​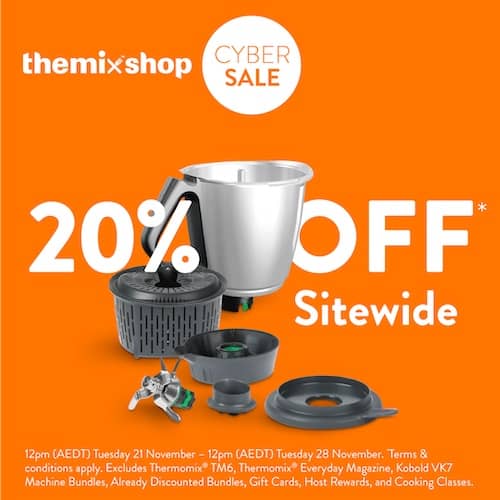 ​
The MixShop annual Cyber Sale starts tomorrow. The sale will offer 20% off* sitewide on TheMix Shop, and savings up to $300 on the Kobold VK7 range.
TheMix Shop and Kobold Cyber Sale begins 12 noon Tuesday 21 Nov (AEDT) and ends 12 noon Tuesday 28 Nov (AEDT).
*T&Cs apply. Excludes Thermomix® TM6, Thermomix® Magazine, Kobold VK7 Machine Bundles, already discounted bundles, gift cards, host rewards, and cooking classes. Discount already applied.
​
Also below, a reminder of the current offers. If you, or someone you know, is keen to buy a Thermomix® TM6, then now is the time as the second bowl offer will end on 30 November. It has been confirmed today that this offer will not be extended.
Remember, you can live anywhere in Australia to buy through me as your consultant. As my customer you will get free access to my online video tutorials to help you make the most of your TM6.
Also, if you know someone about to buy, please offer to host a short demo for them and you will be rewarded with a Thermomix® Cutter if they purchase. Happy to chat through all the details.
One more thing – if you are thinking about joining as a consultant and already own a TM6, I am happy to share that you can now join up and get started if you have the Limited Edition Black or Sparkling Black models. Previously, you had to own the white TM6 to be a consultant. Please get in touch if you have any questions at all about consulting.
​
Happy cooking!
Jo 😊
​
​
​